Durkee Multi-Needle Cap Frames
---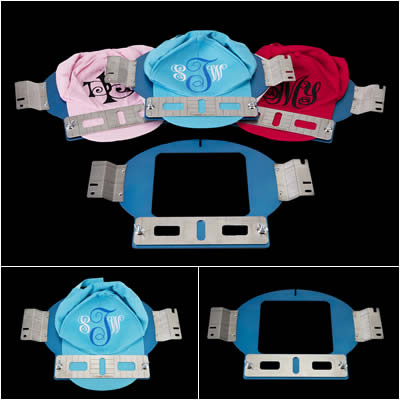 Yes...you CAN embroider beautiful designs and/or monograms on caps with a Durkee Cap Frame. The frame fits directly into the arms of your machine just like any other hoop - no intimidating device to assemble! Why buy a Durkee Cap Frame? Here are just a few of the reasons: 1. Digitizing is the same as a left or right chest design. 2. You can embroider much lower on the cap - closer to the bill. 3. You can embroider a much larger monogram or design 4. You can embroider on both the front and back of the cap. Watch the video below for a demonstration.
Durkee Hoops,
I received my cap frame hoop tonight. I've been in the business for many years. I go way back to 1983. I was a technician on ***** equipment. In 1999 I decided to go into the sewing end of things. I have to tell you that the cylinder hooping system ***** has is not good. When I get hat jobs to do I cringe. I HATE doing hats!!!! I stumbled over your site. I watched a few you tube videos and said it's worth a try. Your price is awesome, and shipping is super-fast. Thank you.
Ok, are you ready? UPS drops off the box, I'm like a kid the night before Christmas. I rip open the box and with-in 5 minutes I have my first hat ready to go. Holy cow!! PERFECT !!!!! Did the second with another design (Both 3.5 inches tall) Not the ***** 2 inch joby. Again picture perfect!! Thank you from the bottom of my heart. Let me get a few hat jobs under my belt and I'll call you for another soon!
Thanks Jim B.