Ten Needle Power Pack
---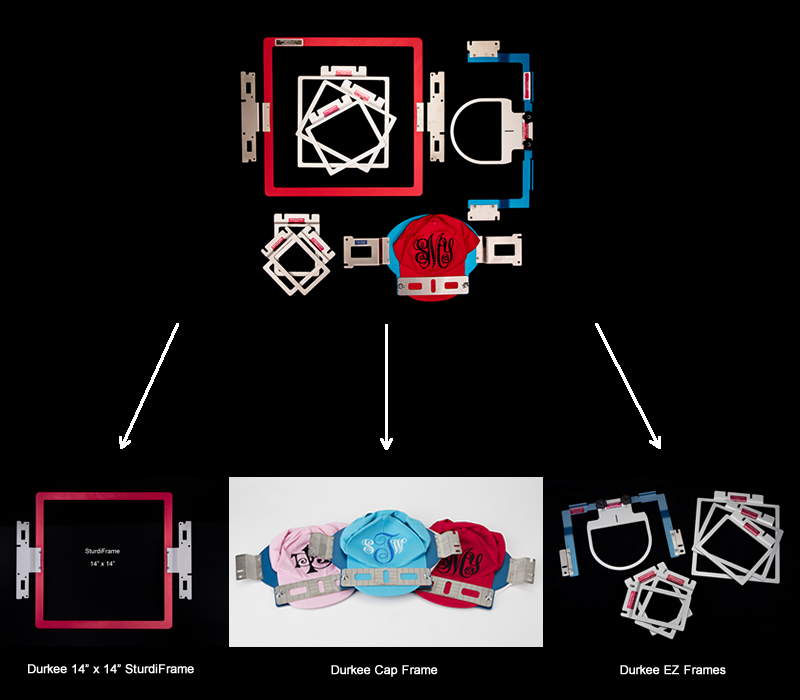 M.S.R.P. $758.45 Online Price - $679.95 Buy Now & Save 78.50!
(Includes free shipping within the United States!)
The Durkee Ten Needle Power Pack was created specifically to optimize ten needle machine owners embroidery experience. This package includes three (3) Best Sellers from Durkee Hoops. Each was designed for its' own ease of use, practical application for simplifying difficult to hoop items, and for product durability. This package will truly enhance the value and enjoyment of your ten needle machine.
The first item is the Durkee 14" x 14" (sewing field) SturdiFrame. It is to be attached to the "B" arms of the 10 needle machine and the frame will be recognized as the 14" x 14" Jumbo hoop. This frame is excellent for split design projects requiring a larger sewing field. Simply apply sticky backing to the underside of the SturdiFrame and slide the frame brackets into the "B" arms of your 10 needle machine. Then, just "float" the item to be embroidered onto the frame and press down to adhere the fabric to the backing and stitch!
Smaller projects...no problem! The second item in the Power Pack is the EZ Frame 7 piece combo pack. This incredibly versatile selection of frame sizes makes difficult to hoop items a breeze. Durkee EZ Frames provide a stable platform for your embroidery projects. Better stability means less bounce...better registration...better results!
The third member of the Power Pack has literally changed thousands of embroiderer's attitudes from refusing to attempt embroidering caps to self-proclaimed cap embroidery artists...the Durkee Multi-Needle Cap Frame. The Durkee Cap Frame offers a sewing field as large as 5" wide and 4 1/2" tall for logos, special designs, or monograms. Perhaps the best of all is its' simplicity of use...the cap frame fits into the "A" arm of the ten needle machine just like a traditional hoop.
* No hoop pop-off * No hoop burn * Less stress on fingers and hands * User friendly