Single Needle Power Pack 2
---
As an owner/user of a Brother Luminaire or, Baby Lock Solaris Machine, you have already discovered how professional craftsmanship and design excellence can bring your embroidery projects to life. In fact, you might even question if or how embroidery could be any better or easier.
The Single Needle Power Pack Two will help answer that question for you. Just imagine not having to hoop your projects with traditional plastic hoops. And what if you could do something you only thought possible with a muti-needle machine...create incredible caps! Durkee Single Needle EZ Frames and Durkee's Patented cap frame insert make it all possible. The set includes one (1) cap frame insert, four (4) single needle EZ Frames designed for your machine plus, a bonus 8" x 8" single needle EZ Frame at NO CHARGE - an $89.95 value!
This Package Includes:
For Brother Luminaire & Baby Lock Solaris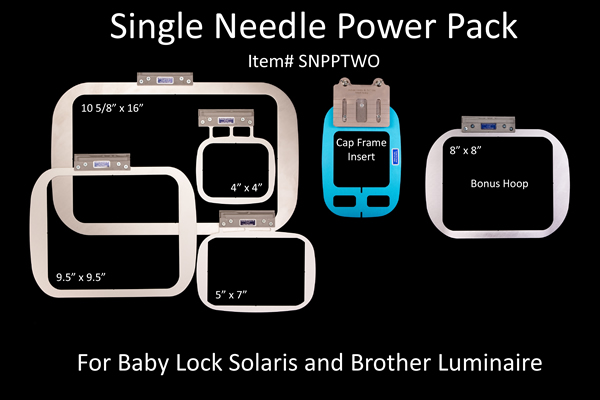 Regular Price - $689.25 | Now Only $564.80 |
SAVE $124.45!