EZ Framer MAX Pro Pack
---
The EZ Frames 12 PC Master Set and EZ Framer MAX are perfect partners for making your embroidery projects faster, easier, and more fun! Most embroiderers agree their two greatest challenges with embroidery are hooping and centering a design within a hoop.
***NEWSFLASH***
Durkee has taken the hassle out of hooping! The EZ Framer MAX is an easy, simple device anyone can use, understand, and enjoy that makes embroidery more fun!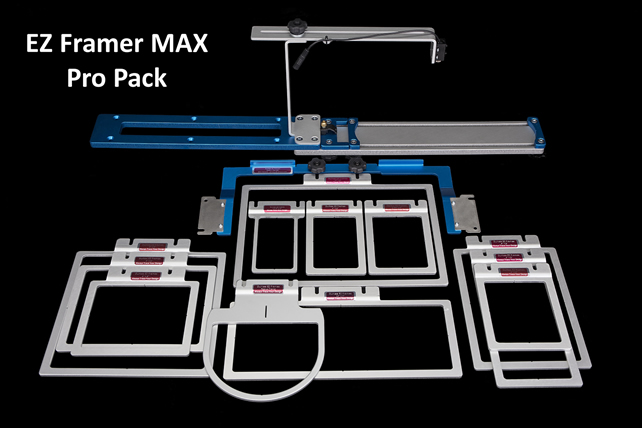 The two most frequently heard comments from EZ Frame owner/users are: "I can't believe how stable they are" and "I'll never hoop again!"
M.S.R.P. - $1209.00 | Now Only$999.00 |
SAVE $210.00!
Set Includes: One (1) each EZ Framer Max plus a Twelve (12) piece EZ Frame Master Set. Included in the Master Set: One (1) each blue adapter arm and the following size EZ Frames: 1 1/2"x4", 2"x4", 2 1/2"x4", 3"x4", 3"x8", 5"x4", 5"x8", 7"x5", 8"x8", 12"x4", 12"x8", and Radius Frame
Click on your machine type below to order: